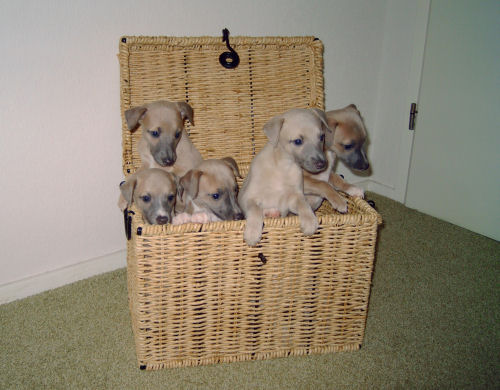 Zusammen mit diesem entzückenden Bild, das vor gut 3 Jahren entstanden ist freue ich mich über ganz besonders liebe Worte unserer holländischen Freundin Monique. Und sie hat ja soooo Recht mit dem was sie schreibt, aber lest selbst:
That are supernews! We are looking forward to a healthy pregnancy and a nice litter of lovely babies. You will love this and do not forget to enjoy every minute, because two months are gone in an eye blink, and you will have to say goodbye to most of them :(.
And we will be able to follow everything through your weblog fortunately.
For me it is already three years ago since I bred the litter from which I kept Jewel. I think I will breed from Jewel in 2008, I am thinking about it since many months now and I am looking around for a suitable male dog in her bloodlines. I think I will travel to the UK for that.But I am not 100% sure yet if it will happen. I will keep you informed as well.
Das klingt ja auch noch sehr sehr interessant, was Monique da so plant, da darf man wirklich gespannt sein, aber jetzt freuen wir uns erst mal auf die Animagis 😉