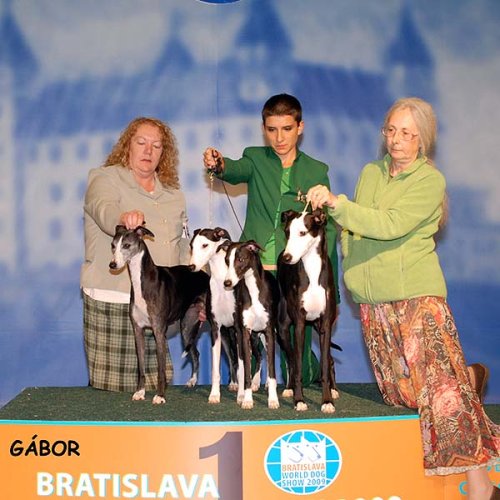 Maia schreibt mir:
We proudly present our Progeny Group, pictured at the WDS '09 in Bratislava.
From the left:
there is Becky Gardner (Willowisp Whippets, USA) with USA/Hun.Ch Lightfall's Will-O-Wisp, who returned to the United States after the WDS. Willow spent 2 wonderful years with us in Hungary, and her spirit will always be here with us, living in her progeny:
PetrezselyemProjekt's Lightfall Lunatica & PetrezselyemProjekt Free Tibet, who won the Female Puppy Class at the WDS. Her litter sister, the brindle PetrezselyemProjekt Dana Khabaray was placed for 3rd in the same class, judged by Patsy Gilmour (GB); both girls pictured with Annamária Mózes. On the right there is PetrezselyemProjekt's Inner City Life, handled by Sue Nichols (hounds of Lightfall, USA).
We would like to express our thanks to Becky Gardner, Sue Nichols and especially for Willow for this black progeny group, and for the last 2 wonderful years.
We also would like to congratulate with this post again to Veronika Kucerova-Chrpova and Ch Panther's Ghost z Uplnku, sire of our 2009 litter, for the World Winner 2009 title!
maia