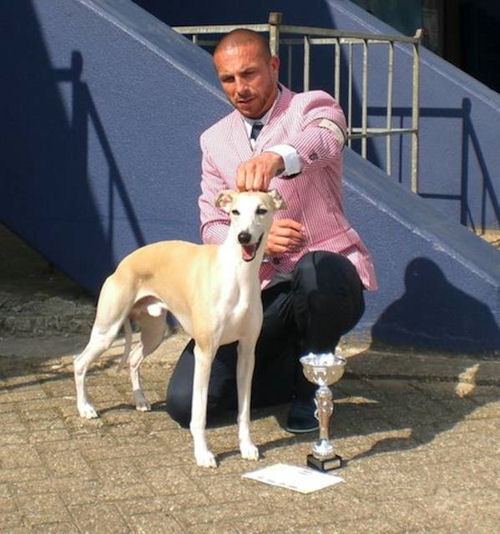 Judge breed: mrs. Jarman (South Africa)
Judge group: mrs. Anita Gielisse (Nl.)
21 Whippets
Dogs:
Junior:
Abs: King Henry VII of Gentle Mind own: G. Nissen
1 very good: Cruel By Beauty Carino own: T. Lowie
weiterlesen
Intermediar:
1 very good: Salty Sand's Anthem of Atlantis own: E. Visser- van Peursem
Open:
1 very good: Shiny Sensation First Challenge own: M. Veenstra & E. Valkenburg
Abs: Akin's Cote Du Rhone own: Rolf Melles
hampion:
1 excellent: cac/cacib BOB & BIG II: Ch. Woodbrooks Ask Me How I Feel own: Tony Groenendijk & Charlotte G lee
2 excellent: rcac/rcacib: Ch. So There Chacheran at Ramillies own: J. Prigg
Bitches:
Junior:
1 excellent: SDW Look Out Here I Come own: Marieke Merlijn
2 very good: Southgrove Afternoon Delight own: J. E. Winkel-Bosch
3 very good: Roccobarocco's Industrial own: v. Busschaert
Intermediar:
1 excellent: Shiny Sensations First Sensation own: M. Veenstra & E. Valkenburg
2 excellent: Salty Sand's Autumn Melody own: v. Busschaert
3 excellent: Delirious Hall of Fame own: F.A. Lentjes
Open:
1 excellent cac/cacib: Ch. Oakway Nite ov Passion own: T. Ellingsen & A. Anderson
2 excellent rcac/rcacib: With Sensory Access Always My Lady own: Wim Nieuwenhuizen
3 excellent: Blue Spring's Coppelia own: Daniëlle Lempereur
4 excellent: Chahcheran Vilma the Varmint own: M. Thomas
very good: Nevedith Pfa Princess own: Bart Scheerens & L. Dams
very good: Osterfen Tears in Heaven own: S.M. Gibbins
very good: Unique von der Oelmuhle own: C.J.M. Verboom-Stox
Thank you Tony for the news!